How we watch movies on our iMac
Overview
Operations
Parts List
Parts Description
---
Apple iMac 24″ Intel Core 2 Duo
24-inch widescreen display
1GB memory
250GB hard drive
8x SuperDrive (DVD+R DL/DVD±RW/CD-RW)
NVIDIA GeForce 7300GT with 128MB GDDR3 memory
Built-in iSight camera
---
Logitech Harmony 1000 Remote Control
The
Logitech Harmony 1000 features a brilliant 3.5" color touch screen that allows for one-touch
activity-based control of even the most sophisticated A/V components.
Navigation controls located on the right side of the panel make it easy
for you to scroll through several options. Say goodbye to the wasted
time and unnecessary complexity of multiple remotes controlling
multiple devices; Logitech's patented Smart State Technology makes it
easy! Control your HDTV, adjust aspect ratios, or change sound
modes—there are no complicated macros to program. Just press an
on-screen activity icon and Harmony does the rest.

The Harmony 1000's sleek shape and brushed aluminum surfaces
will look right at home as the centerpiece of your digital living room.
The remote is all you'll need to control even the most complex home
entertainment systems. And when used together with a Harmony® RF
Wireless Extender (sold separately), you can further reduce clutter by
placing your components out of sight. Since the remote can transmit
both infrared and radio frequency commands, you can control equipment
inside a cabinet or even in the next room. Control your electronic
devices in an organized fashion. With the Logitech Harmony 1000, it's
all within your fingertips.
---
Optical Digital Audio Cable: Mitsubishi Eska POF
When we have a choice, we prefer to run
digital audio in coax; it's more robust over distance, and the cable is
interchangeable with cable used for certain other applications (e.g.,
composite video). However, an increasing number of devices are coming
onto the market with digital audio available only in optical form,
following the TOSlink standard. For these applications, we build our
optical cables using the finest high-performance Plastic Optical Fiber
(POF), Mitsubishi's ESKA Fiber. While POF is in general rather lossy
stuff compared to glass optical fiber, we prefer it for optical digital
audio use because it's much more physically durable and because its
aperture matches the spec for optical digital audio use, unlike glass
fiber which is too small and must be used in bundles. Our fiber is
encased first in a tough cladding layer and then, for added durability,
a flexible outer PVC jacket similar in texture to the PVC on some of
our high-flex Belden cables (e.g. Belden 1505F). In our own usage,
we've tested these cables at lengths up to 50 feet and found them to
perform perfectly even at those extended distances.
---
Female HDMI/Male DVI Adapter
For plugging an HDMI cable into a DVI jack.
---
Female TOSlink/Male 1/8″ Plug Adapter
For plugging a TOSlink cable into an optical-compatible 1/8″ jack.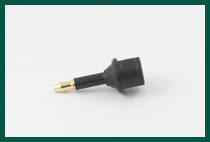 ---
Subwoofer Cables
In
some ways, the subwoofer cable interconnect is the least demanding
application in home theater. While HD video demands cables able to
carry high-bandwidth signals, at tight impedance tolerances, the
subwoofer cable has the relatively easy job of carrying a very
low-frequency, very low-bandwidth signal. But a subwoofer cable has a
critical job to do, and needs to do it well: keep out hum. Hum can come
from ground loops (cable won't help you if that's the case, but see our
isolation transformer
below) or, often, from EMI (electro-magnetic interference).
High-energy, low-frequency noise, like the 60-cycle hum from nearby
power cords, fluorescent lights, and other miscellaneous sources, is
the hardest type of interference to shield against, and the best
defense here is a dense and highly-conductive braid shield. Our
recommended subwoofer interconnect cables have not one, but two, dense
braid shields, and in our testing we've found this to be the best
shield configuration, outperforming conventional single-braid,
braid-and-foil, and unbalanced twisted-pair cables when it comes to hum
rejection.
The Cable: Blue Jeans Cable LC-1 Analog Audio Cable
Our
recommended subwoofer cable is our own proprietary design, the LC-1
low-capacitance audio cable. It has an extremely heavy double-braid
shield layer for the best possible rejection of induced low-frequency
hum, and extremely low capacitance for the flattest possible frequency
response. It is thick — about .305 inch in diameter — but is more
flexible than comparably-sized cables, and is therefore easy to route
around corners and obstacles. Unlike most analog audio cables on the
market, too, LC-1 is UL-listed and bears a CM rating under the National
Electrical Code, so is suitable for in-wall installation in both
residential and commercial environments. (CM is a superior rating to
the more often-seen CL-2 and CL-3 ratings). For more information and
specs on this cable, see our "Design Notes" article about LC-1.
The Connectors: Taversoe Crimp RCA Plugs

Connectors
are a critical part of any audio cable, because if the cable isn't
well-joined to the connectors, or if the connectors don't make firm
electrical contact with the jacks, it doesn't much matter how good the
cable is. Our LC-1 cables are terminated with the Taversoe RCA plug, a
high-quality RCA plug with an all-metal body and shell specifically
designed for the perfect dimensions for use with LC-1. Its all-metal
body, crimped tightly to the shield braid, completes the shielding
assembly from cable end to cable end, to ensure that the cables do not
become an entry point for noise. These plugs are gold-plated on all
jack-contact surfaces, and employ a set of leaf-spring style grippers
on the outer RCA ring which apply just the right amount of force to the
jack to grip it firmly without overtightening.
---
HDMI Cables
HDMI is a digital signal format, developed
primarily as a platform for the implementation of HDCP (High Definition
Content Protection) to prevent consumers from having complete access to
the contents of high-definition digital recordings. As one might expect
from a standard that was developed to serve the content provider
industries, rather than the best interests of the consumer, HDMI is
something of a mess. The signal is not robust over distance because it
was designed to run balanced when it should have been run unbalanced
(SDI, the commercial digital video standard, can be run hundreds of
feet over a single coax without any performance issues); the HDMI cable
is an unnecessarily-complicated rat's-nest arrangement involving
nineteen conductors; switches, repeaters and distribution amplifiers,
by virtue of this complicated scheme, are made unnecessarily expensive;
and the HDMI plug is prone to falling out of the jack with little more
than a light tug. As more and more manufacturers move to implement HDMI
on more home theater devices, however, it falls to the consumer to try
to make the best of this dubious and poorly-thought-out standard.
BJC Series-2 HDMI Cables:

In addition
to our new Belden-built cables, we continue to offer our more
economical, Chinese-sourced Series-2 HDMI cables. These cables are of
excellent quality and we have found them dependable up to lengths of 50
feet at all resolutions up to 1080p/60. They are rated CL2 for in-wall
installation, and use 24 AWG silver-plated copper signal conductors.View the drawing and spec sheet on our Series-2 HDMI and HDMI/DVI Cables, in .pdf format.
---
Sony STR-DE995B Receiver
---
• Stereo Power Rating: 100 Watts Per Channel x 2 (8 ohms 20 Hz-20 kHz, THD .09%)
• Dolby® Digital EX, dts®, 96k/24 bit dts ES®, dts:Neo6®, Dolby® Pro Logic® II Decoding
• A & B/A or B Speaker Switch
• 32-bit Dolby® Digital, Dolby® Pro Logic® and dts® Decoder
• 32-bit DSP with 13 acoustic environments
• Digital Cinema Sound™ system with Cinema Studio EX modes
---
Philips USA 42PFL7422D 42″ Widescreen 1080p HDTV LCD
1920 x 1080p pixel resolution
8000:1 dynamic contrast ratio
16:9 widescreen aspect ratio
500 cd/m² brightness
176°H/176°V viewing angle
Perfect Pixel HD Engine offers the unique combination of ultimate sharpness, natural detail, vivid colors and smooth natural motion on all qualities of HDTV
Built-in analog/digital tuner (NTSC/ATSC) USB connector for easy, instant multimedia playing
Three HDMI inputs for easy full HD connectivity
42PFL7422
D: 41 3/16″ W x 27″ H x 4 5/8″ D
weight: 73.6 lbs.
47PFL7422
D: 45 5/8″ W x 29 5/8″ H x 4 5/8″ D
weight: 52.8 lbs.
VESA 600mm x 400mm compliant
---
HDMI™ 3-to-1 Video Switch
The Belkin PureAV HDMI 3-to-1 Video Switch allows
you to connect to and switch among three high-definition,
digital-video source devices through only one High-Definition
Multimedia Interface (HDMI) or Digital Visual Interface (DVI)*
connection on your high-definition television (HDTV).

Its quick
adoption has made HDMI one of the most common audio video connections
available. It is used on high-definition components, such as HDTVs,
up-converting DVD players, HD cable/satellite boxes, entertainment
computers, and the newly released Blu-ray® and HD-DVD players. This has
created a bottleneck at the HDTV connection—with a common scenario
featuring three HDMI/DVI sources to only one HDMI/DVI input. The Belkin
PureAV HDMI 3-to-1 Video Switch lets you connect three sources into one
HDMI input on your HDTV. Then, simply select from among the source
devices either by pressing the input-selector button on the Switch
itself, or by using the included remote control to scroll to or
directly select a source.
---
Bose Acoustimass-5 Speakers
Two Direct/Reflecting® cube speaker arrays
deliver the warmth and emotion of string and wind instruments. Those
sounds are lifelike and spacious thanks to Direct/Reflecting® cube speaker arrays.
With a blend of reflected and direct sound, this innovative Bose
technology approximates the way sound reaches your ears during a live
performance. You experience the richness of your favorite music from
almost anywhere in the room.

The Acoustimass bass module
produces dramatic low tones without audible distortion and can be
hidden behind furniture. Music and movie effects all seem to come from
the small cube speakers, rather than the hideaway module.
---
JBL Center Speaker
| | |
| --- | --- |
| Black JBL Center Speaker circa 1990 | Need to find a picture to put here. |
---